October 2014
Here's one of our smudge paintings... get two pieces of thick paper or card, dollop on three or four colours (little blobs seem to produce the desired effect). Put one piece on top of the piece with blobs on, lean on it, smudge a bit, tear the top piece off and see what you get.
Have a look at this...our talented children will be exhibiting their artwork on the new display in the entrance hall. Come and have a look for yourselves.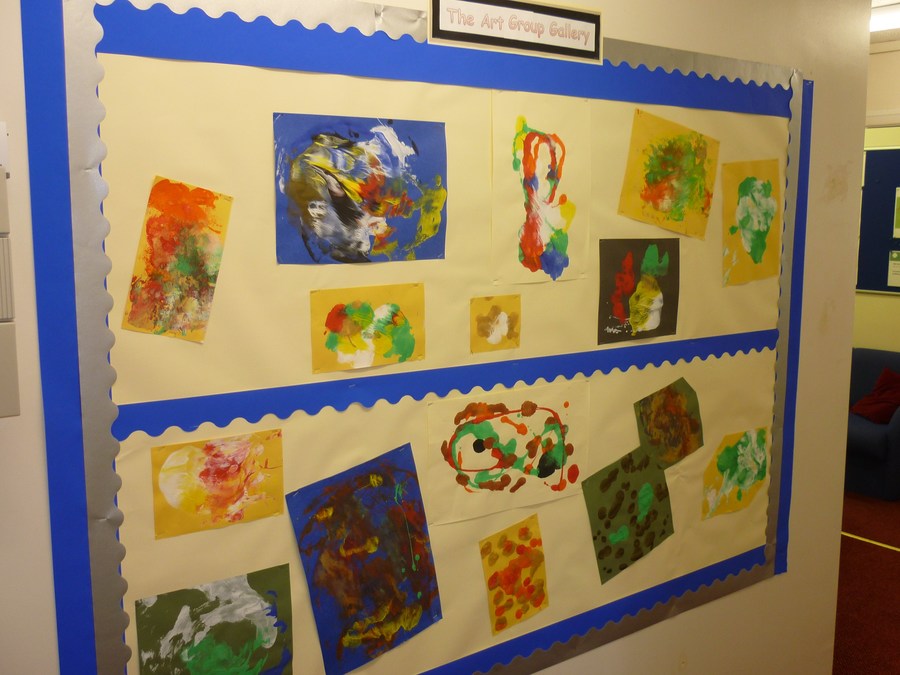 4th September 2014
Art Club will resume next Wednesday in Reception class (10/9/14)Letters have been handed out to Key Stage 2 children, places are available on a first-come, first-served basis. Mrs. Hurley and I recommend that children bring an old shirt or t-shirt to help protect school uniforms. We look forward to seeing your creativity in action, this year the aim is to produce a school calendar chosen from the best twelve designs; why not think of ideas in the meantime.
A massive well done to Grace Jones; her artwork titled "The City" was exhibited in Ulverston and helped raise money for St. Mary's Hospice. Pictures to follow...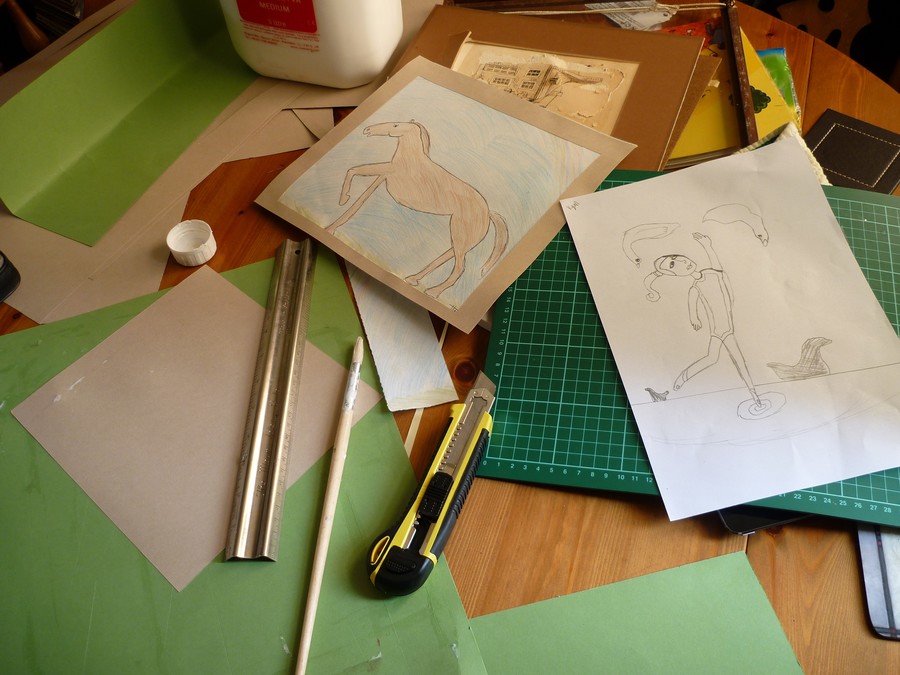 Year Six children have been set the task of completing a piece of artwork of their choosing. The one judged to be the most popular will be placed alongside artwork in an exhibition to raise money for St. Mary's Hospice on the 29th of June. The exhibition is at The Coach House in Ford Park, Ulverston and runs for two weeks. The image below shows the mounting process using the tricks of the trade. I will make my final decision tomorrow after school and will display the winning picture on this site. Have fun and good luck!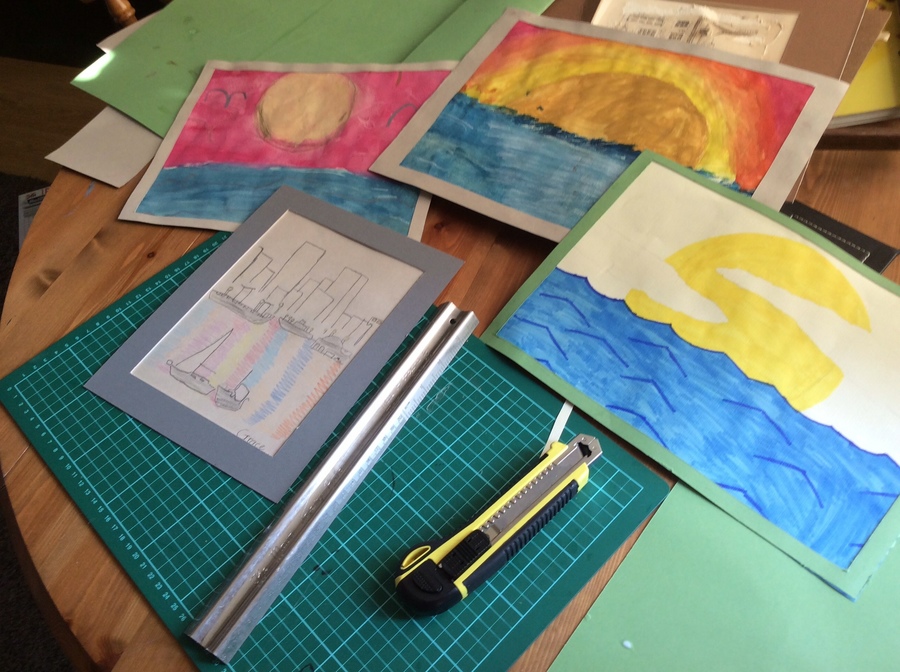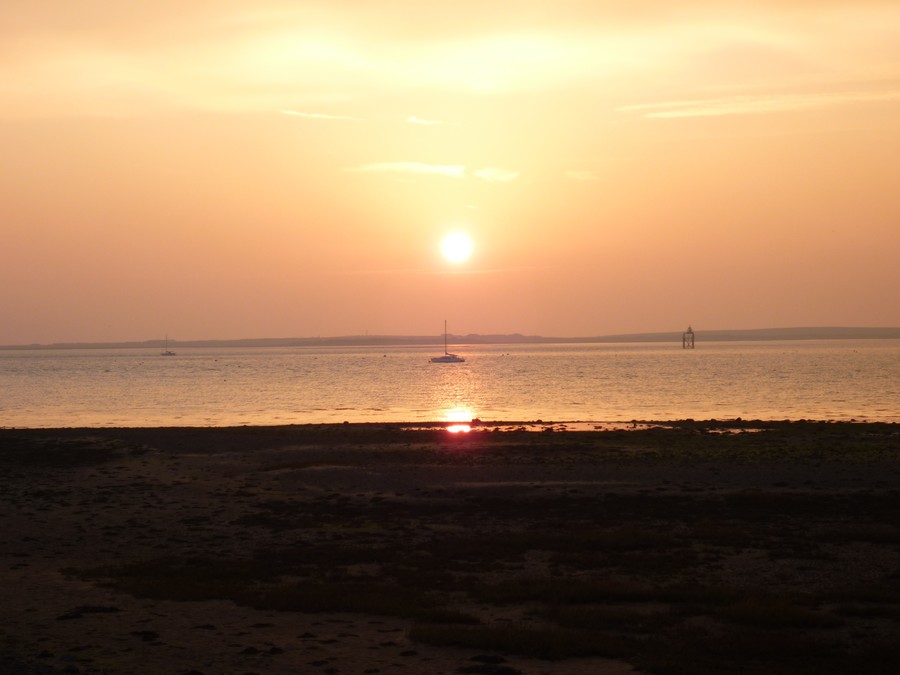 *NEWS FLASH*As we are celebrating the 40th birthday of St. Pius X Catholic Primary School, I am designing artwork to be depicted in mural form to mark our celebrations. Each class will be responsible for one symbol design to depict their thoughts on learning and enjoyment which occurs in our school. I will also be asking for contributions from Art Club, and I'm keen to receive suggestions and designs from children throughout the school. We have created an ethos of creative learning within the school, and I look forward to children contributing to our school artwork, which will remain forever and ever...
Also, any parental assistance (with the design or production of the mural) would be gratefully received.
Thank you,
Mr. P. Marshall
You have discovered the section dedicated to learning and enjoyment of ART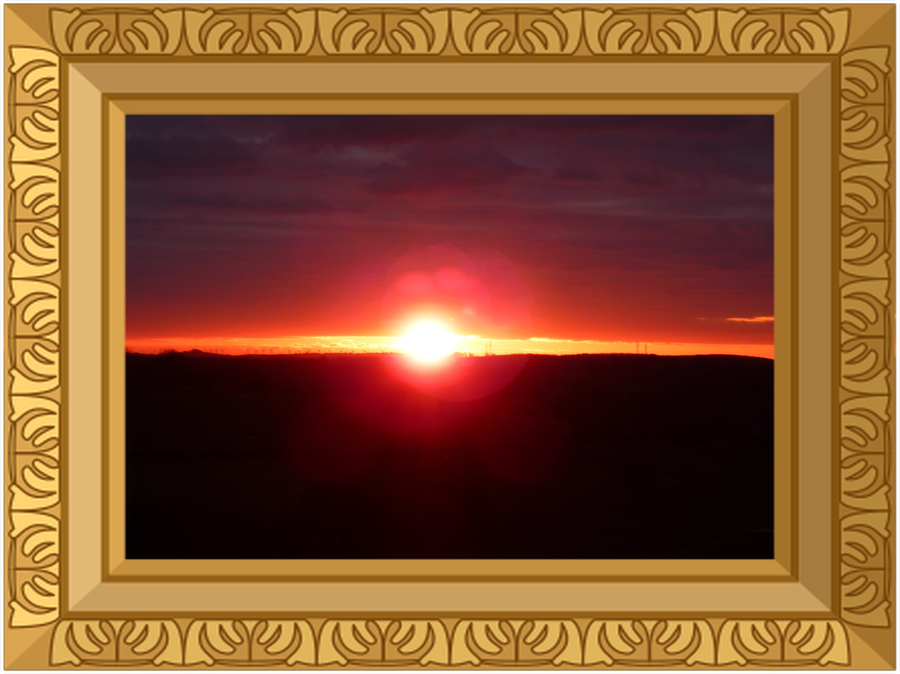 Below is a nativity scene created by a Year 5 boy, ably assisted by Mr. Chamberlain. This was produced by making figures using moulding clay/food colouring for effect, with a bit of cutting and sticking here and there to create a fantastic end product. The ability to work one-to-one with children using art is something we aim to provide as an extra-curricular opportunity. It gives both teacher and child the ability to delve into their inner-most thoughts to add that little extra creativity to their work. It is also very therapeutic, calming and rewarding as I have discovered in the years I have attended group and one-to-one art sessions.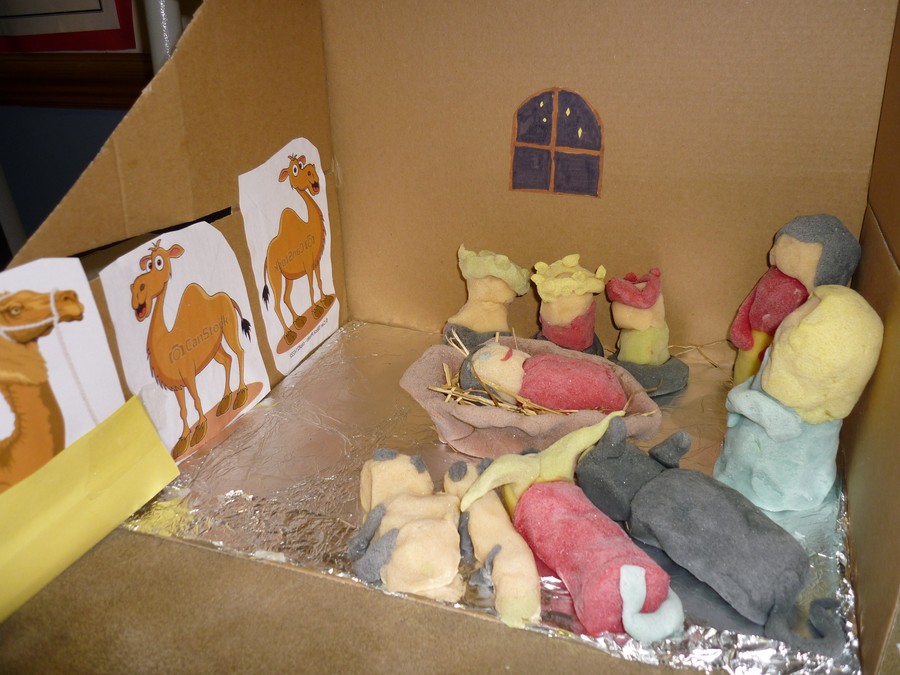 As we enter 2014, I am updating the central store of art equipment. This is located between Years 3 and 4. Classes will have their own bank of art resources, however I am replenishing extra stocks in the Year3/4 wet room. This area is being make colourful and vibrant with art work undertaken in art learning in lessons. Children are also welcome to bring art to show to other children which they are particularly proud of and I will try to display as many as possible in the "3/4 Gallery" as it is now titled. There will be an online version of the real version of the 3/4 Gallery in January. Watch this space...
Children are welcome to use the many books and magazines to help inspire them to learn about art which are found in the 3/4 Gallery. From beginner ideas on mark-making and sketching up to perspective drawings, the books will help develop skills in your child's learning about art. All I ask is that you kindly return the books to the gallery area once you have used them. I'm always looking for new art to try myself, so if you think there is a picture I could try to recreate, let me know and I'll see what I can do.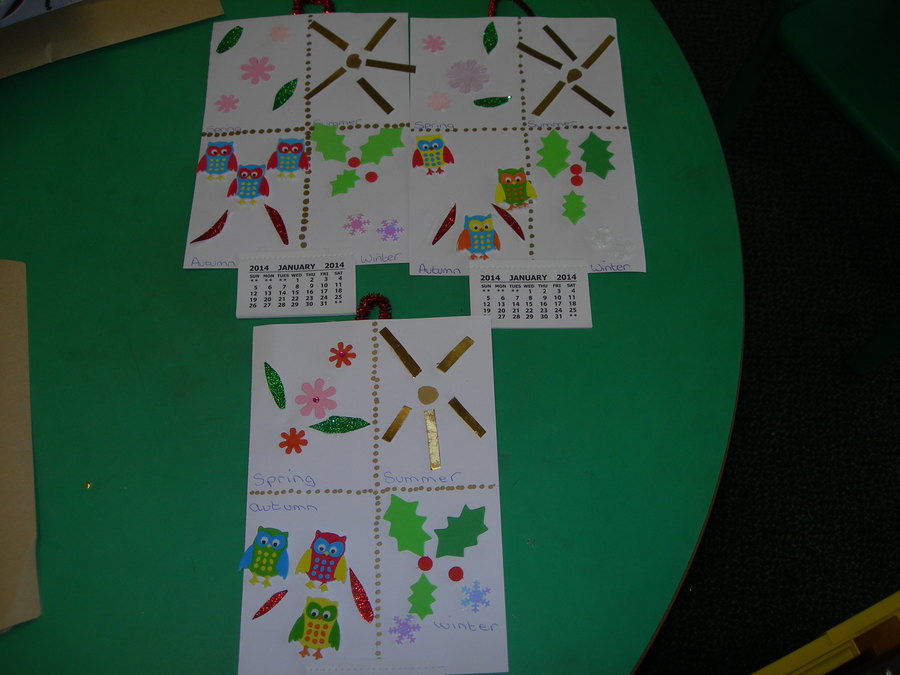 December art update...Art and craft club will resume in the new year in the capable hands of Mrs. Hurley and Mr. Marshall. If your child is in Key Stage Two only (due to places available), we will endeavour to welcome you to our art-learning sessions if you request to join. Places are limited though so do be quick!
Underneath is a fantastic project undertaken by a group of Year 5 girls in December 2013. The end product is testament to the teamwork and patience displayed by the group. Well done girls, here it is...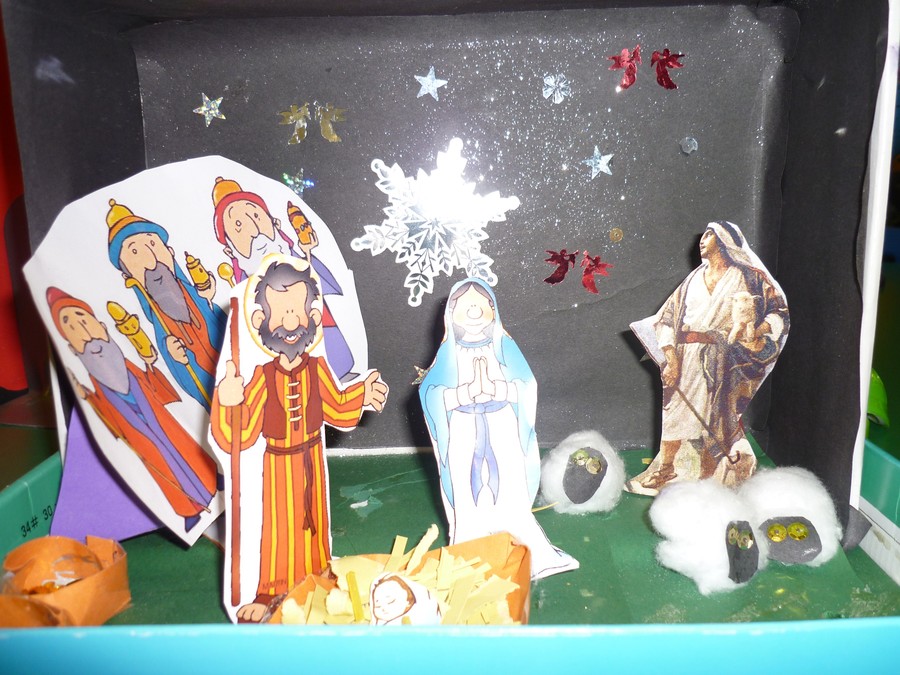 Below is a selection of artwork chosen by children who attend Art Club. We enjoy celebrating successes and discovery in learning at the club, allowing children and teachers to try out new ways of producing art. The aim of the club is to promote inclusion as well as giving experienced and talented artists the opportunity to mentor younger children and facilitate the ability to use a vast range of media to produce a final piece. Mrs. Hurley and I aim ultimately to provide the children with a creative, fun and supportive environment in which to discover drawing, printing, cutting, sticking, mixing skills, along with the ability to splodge, experiment and collaborate. It gets messy and we wouldn't have it any other way!