Reading Events
At St Pius X Reading is given a high profile. We organise and hold regular events throughout the year. Below are some examples of recent events we have held.
Sponsored Read
At St Pius X we organised a sponsored read fortnight. The children completed challenges each day, whilst being sponsored to read books. The children kept a log of the amount of time they spend reading and the amount of books they read! The challenges included: to read outside, to read in a crazy outfit and to read snuggled up in bed.
World Book Day
This year World Book Day was slightly different. We had some children in school (vulnerable and key workers children) and other children working remotely! The school was decorated with balloons and banners to ensure the children who were working from home could still be involved! We even had a crayon shaped post box for children to post their work into!
We completed lots of activities in Early Years based around the book 'The world made a Rainbow'. Key Stage 1 and Key Stage 2 focused on 'The Day the Crayons Quit'.
#ThereIsNoAppToReplaceYourLap
We have a long standing challenge where parents and carers are encouraged to spend quality time sharing a story with their child (ideally sat on their lap). We believe that nothing quite beats sharing a physical book. Parents are encouraged to share photos and videos on our social media pages using #ThereIsNoAppToReplaceYourLap.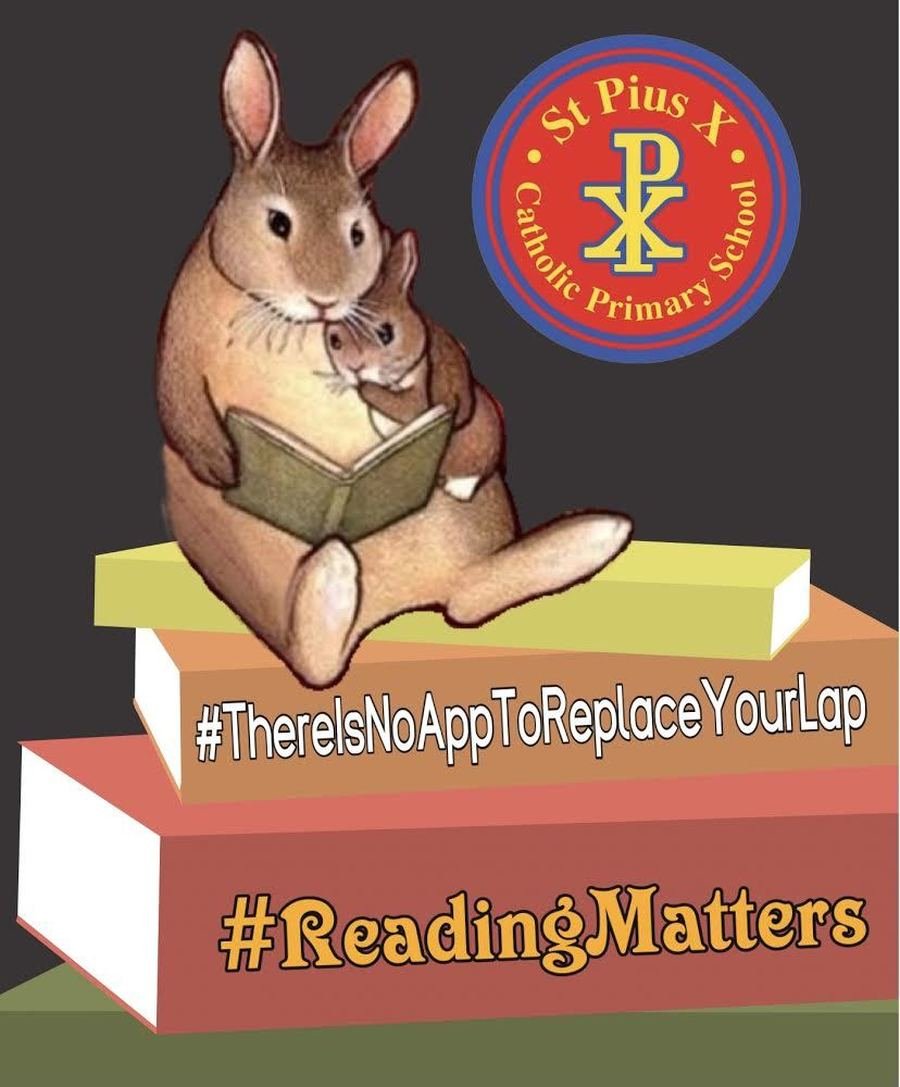 Book Fair
Each year the Book Fair comes to school and the children are given the chance to purchase a new book! Each class is given a slot throughout the week where the children go to the Book Fair and explore all of the wonderful books on offer.
READvent
Throughout the month of December, staff and governors read pages from The World's Worst Teacher by David Walliams. A new video was posted daily on our school Facebook page. This allowed all children to enjoy a story and to raise the profile of reading.
Author Visit
In 2020 KS1 enjoyed a visit from an author. They enjoyed story time and even did some role play to match the story! All children had the chance to purchase a signed copy of the Author's book.
Book Bus
At St Pius X we are very lucky to have the Library Book Bus visit us once a term! We get to swap all of our library bus books and get new ones to enjoy in class! While the Library Book Bus is with us we get the chance to enjoy story time and explore lots of new stories!