Year 3 and 4 STEM Club - Museum of Science and Industry
We had a wonderful day, experiencing and learning about the history of industry, the amazing discoveries of science and the wonderful world of electricity!
Furness STEM Show at Furness College May 2022
Year 5 and 6
The children had an amazing morning at Furness College, with hands on learning about STEM careers and enjoying the Science Show by Professor Pumpernickel!
STEM Day with C-STEM May 2022
Reception and Year 1
Both classes enjoyed a fun filled day programming BeeBots and getting creative with LEGO!
Year 3
The children explored programming with Lego and the iPads.
Year 6
The children learnt how to programme robots using LEGO MINDSTORM EV3s.
BAE STEM Show 2021
Year 5 and 6 children attended the BAE STEM Show at the Forum. They learnt about different skills and careers in engineering and science.
Barrow and District Association of Engineers Award 2021
Mrs Crellin had the great honour of accompanying one of our past pupils to the BDAE Awards Evening at Furness College. She was awarded the BDAE STEM Award for all her hard work within STEM at St, Pius X.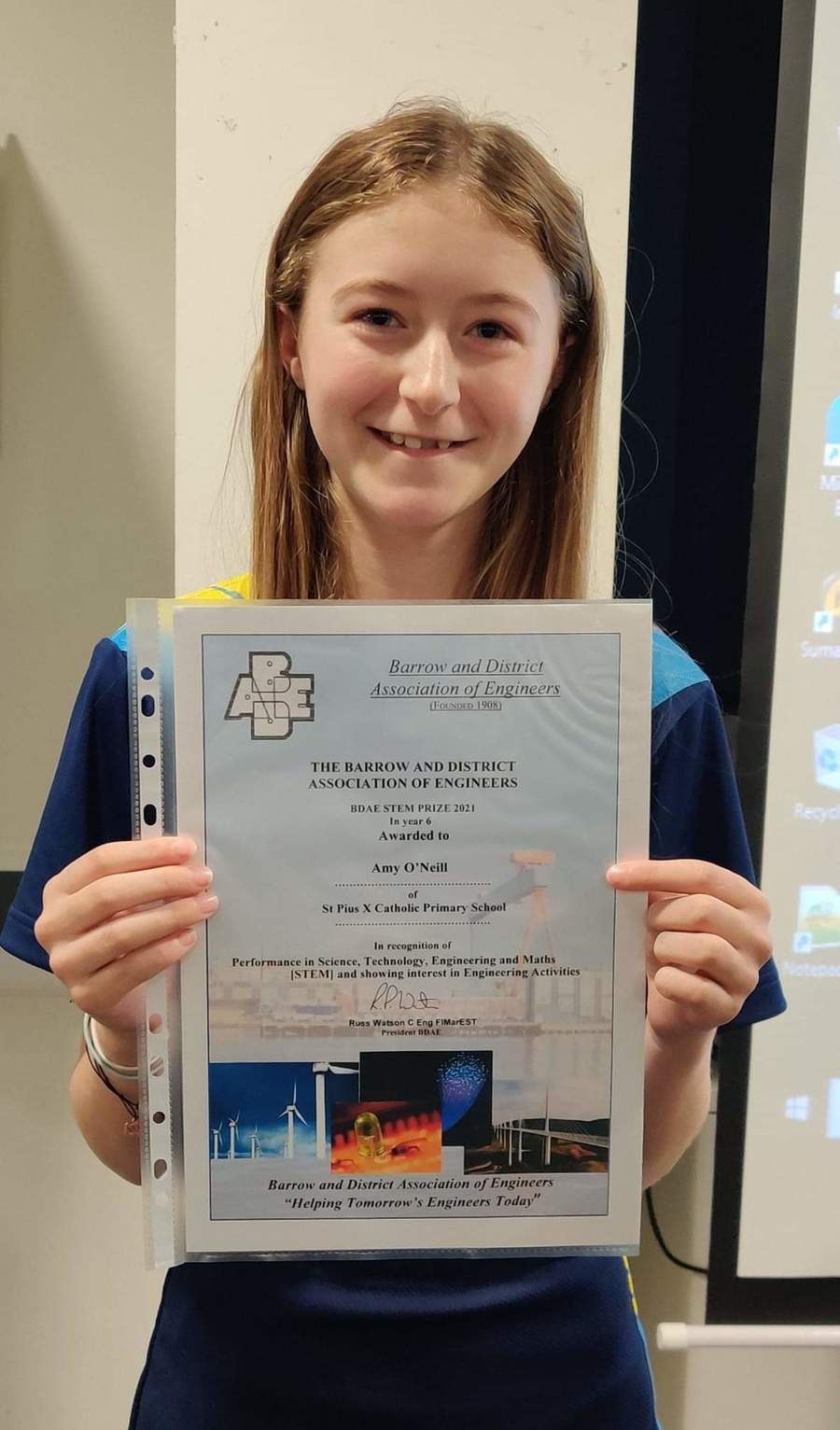 HAPPY AND HEALTHY LIFESTYLES 2019
During the Spring Term 2019 year 6 attended four informative workshops about Happy and Healthy Lifestyles at Furness College. The workshops had been organised and run by a collaborative project between FESP (Furness Education and Skills Partnership) and the NHS. The four workshops form part of the science curriculum topic on 'Animals including Humans'. They included two talks about drugs and alcohol from two former addicts who work for 'The Well' in Barrow who support people recovering from drug and alcohol addiction. Barrow police talked to the children about anti-social behaviour and the consequences, and two local General Practitioners talked to the children about smoking and vaping.
The children were very respectful and asked interesting questions. They enjoyed interacting with the police, being handcuffed and experiencing 'beer goggles'.
LEGO LEAGUE 2019
During the Autumn Term 2018, our Lego Club have been preparing for the Lego League competition which was held at Furness College on Wednesday 16th January. This was our first year as a team together taking part and we were up against many local primary and secondary schools from the area. The team had to learn how to program and build a robot and take part in three robot competitions. They had to prepare a presentation about the problems faced in space and develop a solution. They also had to discuss the core values we had used and developed throughout the whole project.
We all had an amazing day and learnt so much. We would like to thank CSTEM for encouraging us to take part and organising the whole event. We would also like to thank St. Bernard's and Holy Family for supporting us through our little technical issue!
Finally, I would like to say a huge well done to our Lego League Team who through their own efforts won the 'Best Project' category! I was immensely proud!