Class Information Booklet
Summer Term 2
We have had a really exciting last half term in year 3
For our school trip we went to Coniston Water Park and had a great time. We went canoeing on the lake and some of us also jumped in- including some staff. We also had a go at tree climbing using ropes. We look forward going again in year 5 for the residential trip.
In science we have been learning about plants. As part of our topic we went to a farm near Kendal to see further how plants grow and what plants grow well around here. We also got to try some fruit and vegetables grown on the farm, sow our own seeds and learn how the the food we eat reaches our plates. We also enjoyed a walk around a farm trail and went to see where the cows are milked.
In P.E. we have worked on our orienteering skills. We have been using maps of the school grounds to make our way around an orienteering course.
We look forward to going into year 4 and all the exciting lessons planned for us.
Spring /Summer Term
Year 3 have been very busy. We took part in the You Dance perfomance at the Forum. We performed a dance about World War 1 and the Christmas Day Truce. We had lots of fun doing this. Also in P.E. we have been learning basketball. We have improved our team building skills as well as our ball skills.
In Topic we have been recently learning about Ancient Egypt. We have built pyramids from cocktail sticks- we really enjoyed this. We have also been finding lots of interesting facts about Ancient Egypt.
In R.E. we have recently been learning about Mary. We went to a special service for the Crowning of Mary with year 3 classes from other local schools. We also led a prayer session for our class assembly based on the Crowning of Mary.
We have been learning about fossils in science and even made our own. This was messy and good fun!
Quotes from the children:
"Basketball is ace because you get to shoot a ball in a high net."
"I enjoyed singing to the whole school as part of our class assembly."
" In topic I have learnt lots of things about pharaohs about pyramids."
Autumn 2
In our topic work we have learning about World War One, focusing on Remembrance Day and The Christmas Day Truce. We have also been learning about Belgium as this was a country significant in World War 1. In Technology we made poppy crosses and carried them down to the Cenotaph for Remembrance Sunday. We designed and made our own war medals from clay which we then decorated. Some of us also made poppy pompoms.
In P.E. we have been attending Hoops for tennis coaching. We really enjoyed these sessions and our tennis skills have greatly improved.
" I enjoyed tennis. I can now hit the ball over the net". Chantelle
"I enjoyed learning about the people in World War 1 who played football on Christmas Day" Lewis
Autumn 1
We have all settled into the juniors really well and now feel very grown up. We have been learning a lot of new things this half term.
In P.E. Mr Thompson has been teaching us new hockey skills. Fortunately the weather has been kind to us and we have been able to go outside. We have even managed to play a few small team games.
In our topic work we have learning about World War One, focusing on the use of animals in the war. Our reading area is themed around World War One and we have enjoyed having some quiet reading time in there.
In Art we have been learning the skill of marbling. We really enjoyed this because it is messy.
"I have enjoyed year 3 so far and I have liked everything." Max
" I enjoyed using the marbling inks because the pictures look nice and cool." Jessica
" I have enjoyed making up my own silly sentences in poetry." Jackson
Spring Term 2
In English this term we have gone all 'Harry Potter' mad exploring non-chronological reports especially leaflets and school reports.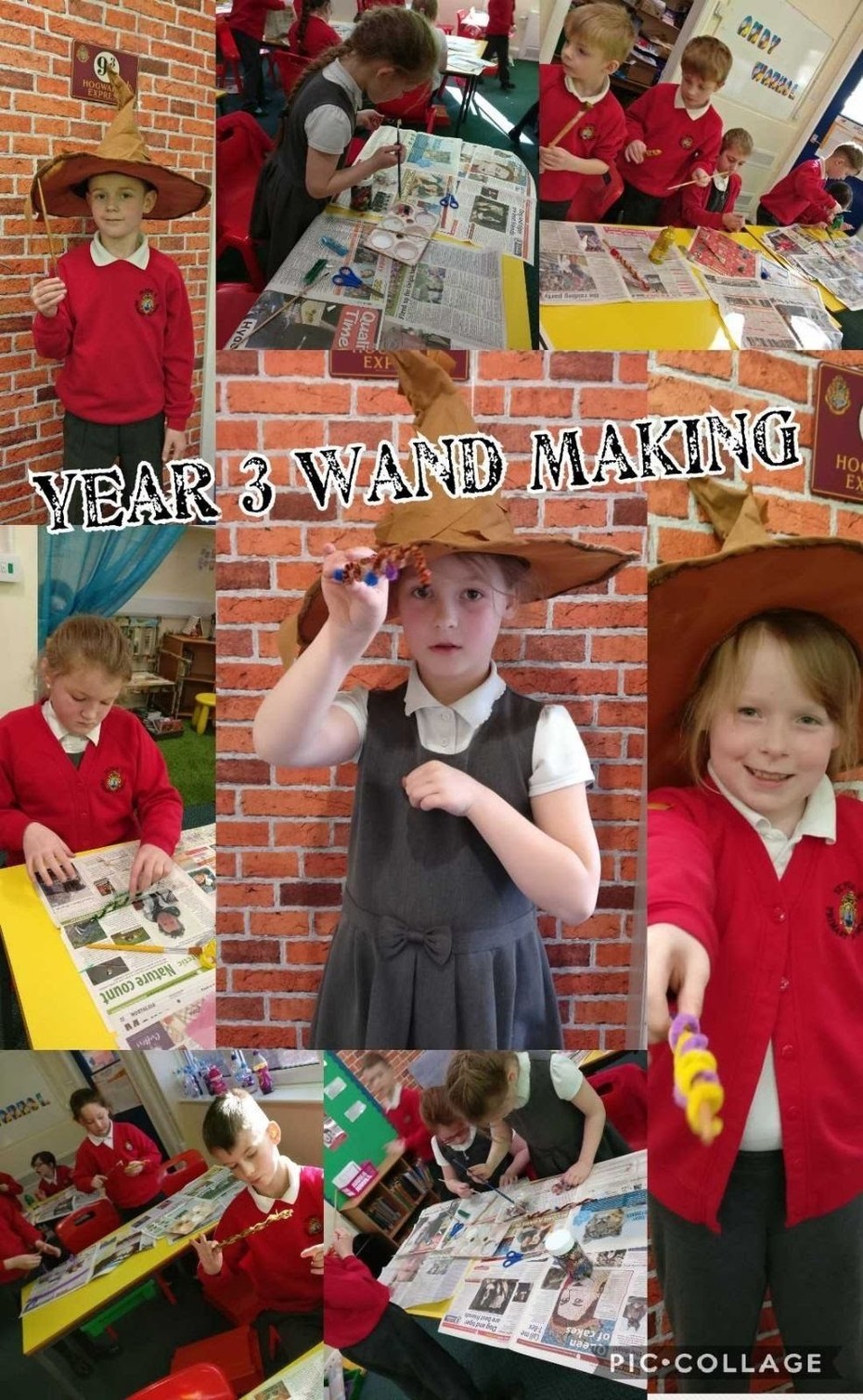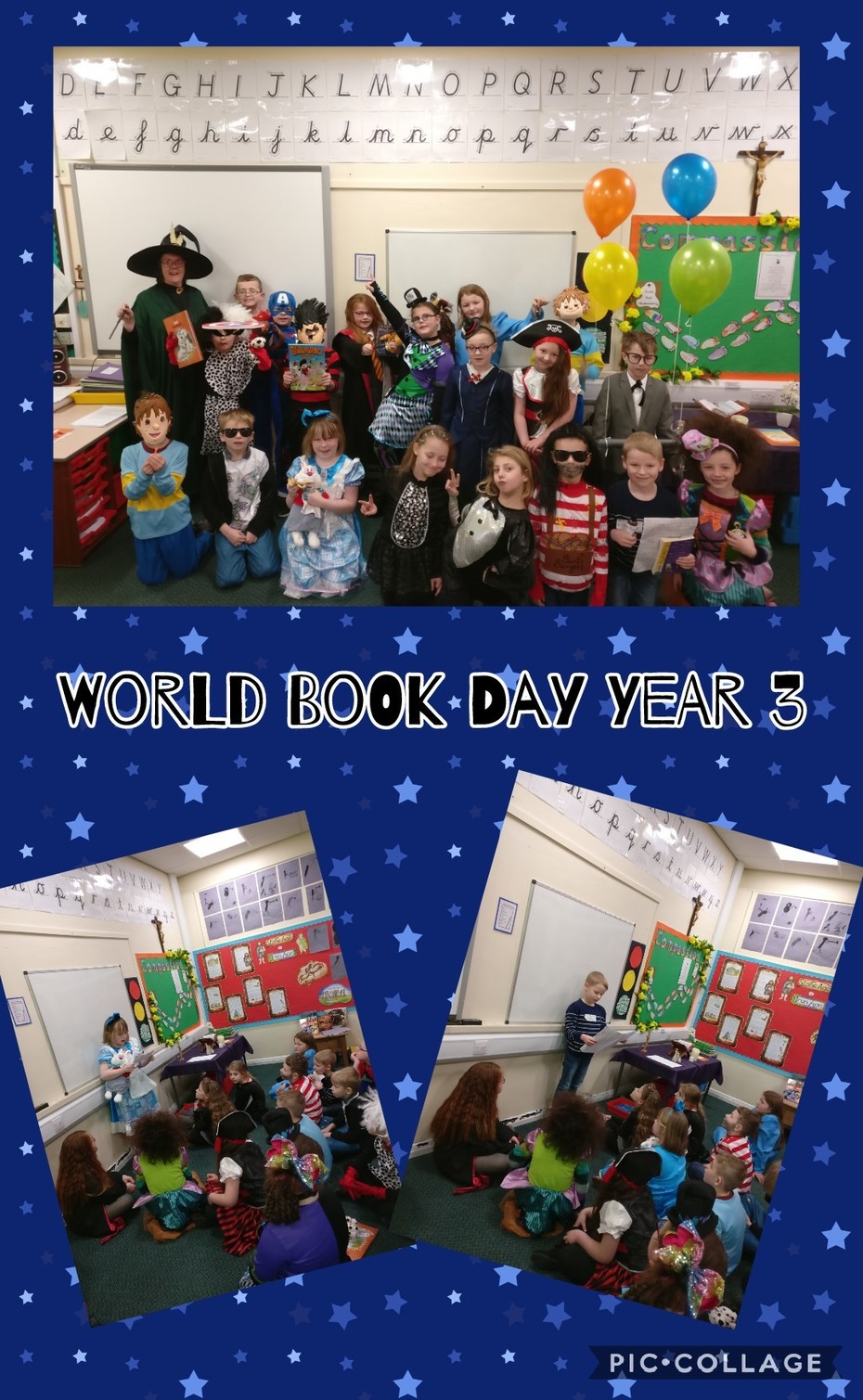 In mathematics we have been 'reading and writing' the time from an analogue clock and we will be converting from an analogue clock to a digital clock. We will also be looking at estimating the time to the nearest minute.
We continue to learn about Stone Age to Iron Age.
In Science we are now learning about Forces and Magnets.
In RE we are learning about Lent and preparing for Holy Week.
Swimming and Dance continues.
We continue to work on 'The Twits' by Roald Dahl but we are now learning how to read between the lines to make deductions and predictions. We are also learning how an author uses language to create mood.
We continue to increase our french vocabulary and our confidence in speaking simple sentences.
Spring Term 1
In English we have been reading and familiarising ourselves with traditional fairy tales, especially Hansel and Gretel. We have re-written the story from either Hansel or Gretel's perspective. We have also created and explained our 'Machines for the Future', with fantastic examples e.g. the Marvellous Magic Pen, the Bedroom Tidier, the Magic Unicorn.
We are learning our 4 timetables this term. We are also exploring fractions especially tenths, ordering and comparing, adding and subtracting and converting from fractions to mixed numbers to decimals.
Our topic for this term is Stone Age to Iron Age. We have also been looking at rocks in Science and found out about how fossils are formed. We learned about our class artist Andy Warhol and we have produced some art in his style.
During this half term we have been learning about Reconciliation as some of the children get ready to make their First Holy Communion.
We were very excited to begin swimming lessons and we have started to prepare for a performance at the Forum with UDance in March.
Autumn Term 2
This half term has been extremely busy! We have visited Hoops to learn how to play tennis. Everyone really enjoyed it.
"I really enjoyed tennis, especially on the last week when we had to play a one to one challenge and I was unbeaten" Brody.
In other PE lessons we worked on basic skills and some of our class were chosen to represent the school at a PE skills competition.
In English we learned all about play scripts and how to write them.
In mathematics we looked at using two digit numbers and explored using them in addition, subtraction, multiplication and division.
In music we learned about pitch and how to breathe when singing. This came in very handy when we were learning all the songs for our Christmas show!
In science we looked at rocks and how different rocks are formed.