THE FRIENDS OF ST PIUS X
The Friends of St Pius X (FOSPX) was set up and constituted in September 2019. Prior to this, there was a St Pius X PTA (Parents & Teachers Association). Many of its members are still active FOSPX committee members.
The Friends of St Pius X is a group that is made up of the school community and its main purpose is to fundraise for St Pius X Catholic Primary School, to benefit its pupils.
'Alone we can do so little; together we can do so much' Helen Keller
We are always on the lookout for volunteers (and committee members) and fresh ideas. So, if you have a little time to spare, or know of any novel ways to raise money, then please get in touch. We would love to hear from you. Email: friendsofstpiusx@st-piusx.cumbria.sch.uk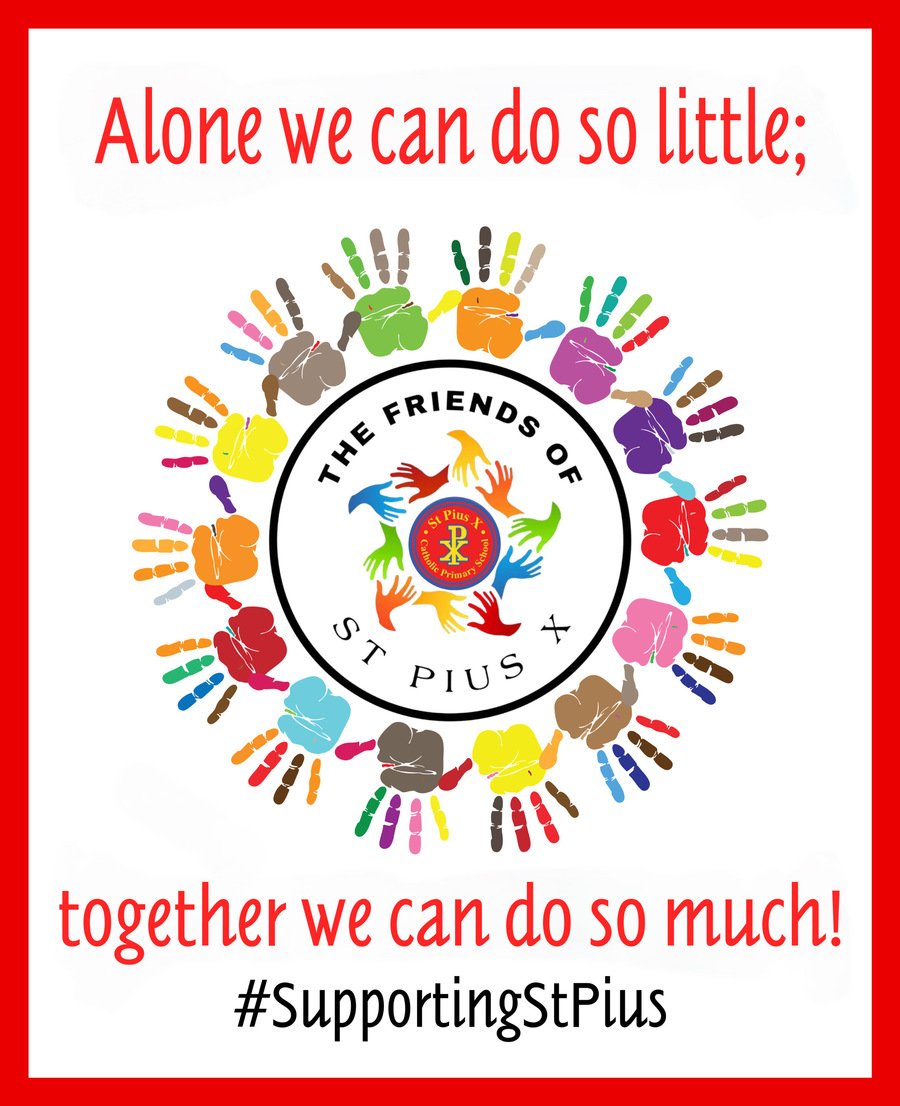 Fundraising Goal
Our next fundraising goal is to purchase a class set of iPads and a charging trolley. This goal was set in September 2021.
Previous fundraising has enabled us to:
purchase 13 additional iPads for Year 3 (July 2021 - £2,529.31)

this means that all pupils across Key Stage 2 have their own iPad to access learning via Showbie (our online learning platform) and practise fundamental key skills (e.g. timetables, spellings, etc).

purchase a second school minibus and pay for its signage (March 2021 - £9,550)

this enables the pupils to go on whole class visits and trips to enhance the curriculum and provide them with enrichment and cultural capital opportunities.

contribute towards a new phonics reading scheme (October 2020 - £4,220)

this allows pupils (mainly EYFS & KS1) to read books that match the phonics phase they are working at or within.

purchase a school minibus and pay for its signage (February 2020 - £8,200)

this enables the school to take groups of children (up to 16) out of school to enhance the curriculum and provide wider opportunities. It also allows them to run a school bus service for families that have moved out of the area but want to remain at out wonderful school.

contribute towards replacing the adventure playground and trail (2018/19)
contribute towards the Early Years outdoor area (2017)
Charitable Status
The Friends of St Pius X is a registered charity, with the main purpose of raising funds to support and benefit the pupils who attend St Pius X Catholic Primary School.
Registered Charity Number: 1187382
Trustees: Miss Naomi Sargent, Miss Sophie Jeffries, Mr Kevin McGoldrick, Mrs Emily Hogg, Miss Rachel Moyse & Mrs Rachel Finlayson
Constitution (governing document): see below.
Chair - Naomi Sargent
Vice-Chair - Sophie Jeffries
Treasurer - Kevin McGoldrick
Secretary - Emily Hogg
Publicity Officer - Rachel Moyse
Events Coordinator - Rachel Finlayson
Volunteers: Liz Nugent, Angela Gallgher, Gemma Sadler, Eileen Grisedale, Yasmin Clarke, Beth Mullen, Carrie Blakeborough, Gill Cunningham, Angela Baker, Rachel Webber, Carly McAloone, Jessica Ralph, Damien Timlin, Dan Webber, Zoe Grogan, Julie Blakeborough, Tracy Matthews, Joan Muldoon
Accounts
2021-22
| | | | |
| --- | --- | --- | --- |
| Opening Balance | Income | Outgoing/Expenditure | Outstanding Balance |
| £1 | | | |
2020-21
| | | | |
| --- | --- | --- | --- |
| Opening Balance | Income | Outgoing/Expenditure | Outstanding Balance |
| £4,221.00 | £14,302.48 | £18,522.28 | £1 |
2019-20
| | | | |
| --- | --- | --- | --- |
| Opening Balance | Income | Outgoing/Expenditure | Outstanding Balance |
| £0.00 | £12,823.80 | £8,602.80 | £4,221.00 |
A Letter from The Friends of St Pius X Chairperson